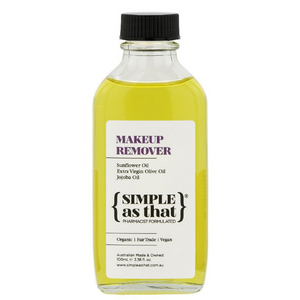 This SIMPLE as that bottle of liquid gold gently removes all traces of eye makeup – even the most stubborn mascara! It can also be used all over the face to remove foundation and other makeup all in a single sweep, leaving behind healthy traces of  antioxidants, Omega 6 & 9 Fatty Acids, and Vitamins A, D and E.
The SIMPLE as that range is packaged in glass not plastic. It is 100% Australian made by a Pharmacist, vegan, natural, fair trade, gluten & nut free and suitable for sensitive skin types.


Organic | Fair Trade | Vegan
Australian Made & Owned
100mL ℮ 3.38 fl. oz
Directions for use: Add to cotton pad to gently remove makeup. SIMPLE as that!
Ingredients: Sunflower Oil, Extra Virgin Olive Oil, Jojoba Oil