Collection:

Peg Baskets - Hand Made in Australia
When it comes to maintaining an organized and efficient laundry routine, having the right tools makes all the difference. Introducing our premium hanging peg baskets and peg bags, handmade with care in Melbourne, Australia. Crafted from top-notch outdoor woven mesh material, these durable accessories are built to endure the toughest of weather conditions. Say goodbye to flimsy and short-lived alternatives - our weather-resistant and UV stabilised peg baskets are here to protect your pegs and ensure they stand the test of time.

Designed for Durability and Convenience:

Our hanging peg baskets and peg bags are meticulously designed to meet your laundry needs. Crafted with the highest quality materials, they are built to withstand rain, wind, hail, or shine, making them ideal for outdoor use on your clothesline. Unlike other options on the market, these baskets won't deteriorate, rot, fade, or blow off the line, guaranteeing a long-lasting solution for your peg storage.

Ample Storage Capacity:

Running out of pegs can be frustrating, especially when you have a lot of laundry to hang. Our peg baskets boast an impressive capacity, holding approximately 200 standard-sized clothes pegs. You can say goodbye to constantly refilling small peg holders and enjoy the convenience of having all your pegs in one place.

Built to Last:

Investing in quality products is essential, and our peg baskets are no exception. The galvanized wire handle is rust-resistant, ensuring long-term durability and functionality. We are so confident in the quality of our peg baskets that we offer a guarantee of 10+ years. With this assurance, you can trust that our products will continue to serve you well for years to come. Handmade in Melbourne, Australia for Australian conditions.
Peg Basket - Handmade In Australia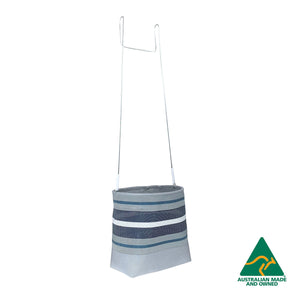 Peg Basket + Peg Bundles