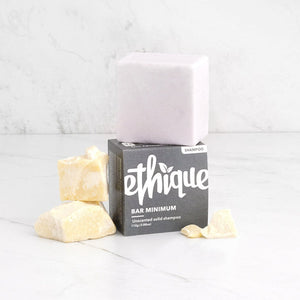 Bar Minimum™ Unscented Solid Shampoo Bar
Gently cleanses touchy scalps
(110g)

Sometimes, less is best - so we've put the bare minimum into this unscented shampoo bar for those of you who are sensitive to fragrances and essential oils, or the minimalists who prefer the simplicity of an unscented product.
In place of our usual coconut oil to nourish strands, we've used babassu oil (that's fairly traded, of course) and added betaine, which is derived from sugar beets, to help calm irritation of the scalp.
The sulfate-free formulation gently cleanses as cocoa butter and glycerine add softness and shine for luscious hair and a happy scalp that will love you forever.
For all hair types
At least 80 uses
No added fragrance or essential oils
Great lather with no waxy residue
With babassu oil for weightless nourishment
pH: ~6
Soap-free formula

How to use



Giving up the bottle is as easy as 1, 2, 3.

Wet your hair and the bar. Slide the bar from root to tip 3-4 times. 

Put the bar down and lather shampoo into hair.  It will foam!  

Rinse and follow with conditioner if you need to.