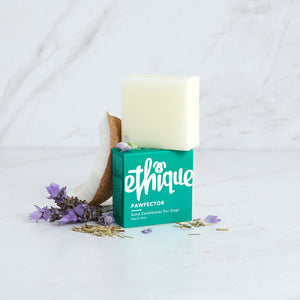 Pawfector™ Softening Solid Dog Conditioner
Softens dog fur
(60g)

Get your pooch Insta-ready with the Pawfector conditioning bar. Packed with cocoa butter, coconut oil and lemongrass, you'll boost softness and shine to take those snuggles to the next level. Perfect for all very good dogs.
This conditioner should last your pooch well over a year with regular washes.
Tested on humans of course.
How to use

Giving up the bottle is as easy as 1, 2, 3.
After shampooing with Bow Wow Bar or Shampooch, swipe the conditioner bar from head to tail.

Put the bar down and massage into fur. Rinse well, avoiding eyes and nose.

Pro tip: Smear peanut butter on the side of the shower to distract reluctant bathers.