Collection:

Dishwasher Detergent Sheets
Tired of bulky plastic bottles and harmful chemicals in your dishwasher detergent? We have the perfect eco-friendly solution for you! Our revolutionary detergent sheets are crafted from plant-based ingredients, harnessing the power of nature to give you sparkling clean dishes and a healthier planet.
Each detergent sheet is conveniently pre-measured, ensuring the perfect amount of detergent for every wash. Simply place a sheet in your dishwasher's detergent compartment or directly with your dishes, and let the sheet work its magic. Our advanced formula quickly dissolves in water, releasing a potent cleaning agent that effectively removes food residues, stains, and odors.
Dishwasher Detergent Sheets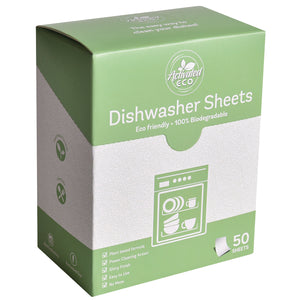 Dishwasher & Laundry Detergent Sheets Pack
Eco-Cleaning Pack